"ABSOLUTELY LOADED WITH DETAILS AND ONE OF THE BEST RIDE FEEL OF ANY BIKE"

Custom drawn Steel or Titanium

External Cable routing (Steel)

BB Shell Spec: 73mm / threaded
Internal Routing (Titanium)

12x142 Rear Spacing

Offset and dropped rear seat stays

Pre-Paint Anti Rust coating

Angular Contact Bearings
Knolly Compliance tuned full carbon fork w/hidden fender mounts

MTB Derailleur hanger

Lifetime Warranty

7 Sizes with custom ride characteristic for each

Very smooth and compliant ride over rough terrain

Di2 and mechanical routing options

Suitable for riders small riders (152cm)
MTB Inspired geometry with longer top tubes
Superb handling with low 75mm bottom bracket drop
Extensive tube shaping for optimal weight / stiffness and compliance
Internal Dropper post compatible


AVAILABLE WITH SHIMANO GRX610 or 800 series and SRAM FORCE 2x and FORCE 1x AXS



an insane amount of details have gone into the cache. the ti cache features 11 separate cnc parts - 9 titanium and 2 in aluminium. all these minute details add up to PRODUCE THE LEGENDARY knolly ride quality


No details left out - The rear stays sit off-center of the rear axle to aid in compliance and the custom shaped chain stays angle the rear brake line smoothly and increase the weld surface area. With 11 custom CNC parts throughout and the striking CNC'd head tube. The Cache is built to last


Made for 700 x 45c or 650b x 2.10". Your choice of wheels and type of riding. The custom Knolly carbon fork also has hidden fender tabs so you can load it up and head out on a multi day adventure


Available in the magic carpet riding steel with a special pre-paint anti rust coating throughout. Still taking advantage of the radically shaped tubes as the Ti version but at a lower price point.

Ride quality comes first - The Cache Ti and Steel feature a sublime ride - Each size has had their tubeset optimised to provide the right amount of compliance and stiffness depending on the size of the frame. This cannot be done with off the shelf tubesets - the Ti and Steel frames all have had custom tooling to make this happen - an expensive process - but you know you are getting some of the best riding bikes available. All the minute details add up to make this a bike that you will want to have for a long time.

"Having ridden loads of high end carbon bikes the Cache was refreshingly comfortable, it really takes the buzz out of crappy roads and putting down the power feels absolutely sublime."
Timeless and extremely durable - The workmanship of the Cache Ti is second to none. Yep it's expensive, but we know you won't be changing this bike every season.

excellent price point and SUBLIME RIDE of STEEL

Available in 3 colourways and coated with an anti rust coating for carefree riding in any condition. Heavier than the titanium but once the ride quality is felt everything is just vanishes. Did you see the price? Amazing value with 7 sizes available for the true-to-size fit.

No messing around here - Knolly stands behind all their bikes and the lifetime warranty really secures that. There is no doubt Knolly's are made to be ridden hard and being born on the shore means they need to be tough to take the abuse and aggressive riding they are built for. A true test of the strength and durability is Knolly's Limited Lifetime Warranty. Knolly also offers an excellent crash replacement program as well. No wonder there is a huge following of loyal Knolly fans all over the world.

unlike other brands that are driven by marketing hype - There is no new model once a year, once a bike is ready it is released - no matter how long it takes. You know you are getting the best of the best, no compromise in quality or handling. Bikes made to be ridden hard and last a very long time.

Whether you want to run "skinny" 700c x 28c tarmac focused tyres and smash out quick road miles, you can also size up to 45c for that nice balance of grip and comfort for terribly surfaced gravel roads.

With clearance of up to 2.10" on 650B wheels this turns the cache into a gravel mile machine. The comfort and grip of the wider and smaller tyres combined with the silky smooth ride quality of the Cache lets you get and ride all day.

Shimano offers their cranks with a +3 option (the part number should have a "B" on the end like this: FC-M8000-B). The axle length and BB are the same as their standard cranks so the offset is worked into the chainring mount. This system will work as both a 1x and a 2x option on the Fugitive. NOTE: this set up requires one spacer between the BB and the frame on the drive side. Maximum size chainring is a 32t ring with this setup. The XTR, XT and SLX cranks in this configuration work on the Fugitive. The new Shimano XTR, XT and SLX 12 speed cranks come in a 56.5 chainline
Yes Titanium is beautiful and is everlasting - not in your price budget? The Steel Cache will satisfies all your desires and lust for perfect buttery smooth ride quality. It features a pre-paint ED rust inhibition coating

Whatever your reason the the Cache is compatible - The Knolly carbon fork is strong and comfortable, flat mount brake tabs and hidden fender moutns.

A huge range of sizes to suit riders of all shapes and sizes and each one rides to perfection. Having deep roots in mountain biking the all-road Cache naturally has lots of stability and a confident handling and the low bottom bracket means you feel absolutely connected to the road, dirt or gravel. A custom tubeset for each and every size means you get that fine tune Knolly ride quality, each one requiring new tooling - an expensive process, but we can say it's well worth it.

Are you ready for a demo?

Sydney, NSW NORTHERN BEACHES / GARRIGAL

Bikes Available: Fugitive, Fugitive LT

You are in advanced mode.
You can turn it off in left sidebar. To use advanced options, you will need to enter your own Google Maps API Key.
Get Google API Key
CANBERRA, ACT STROMLO & MAJURA PINES

To book in a demo ride contact us;knolly@biggride.com
Bikes Available: Fugitive, Endorphin

You are in advanced mode.
You can turn it off in left sidebar. To use advanced options, you will need to enter your own Google Maps API Key.
Get Google API Key
You are in advanced mode.
You can turn it off in left sidebar. To use advanced options, you will need to enter your own Google Maps API Key.
Get Google API Key
Knolly's have always been made to suit humans of all shapes and sizes - just look at the range of sizes for the Cache! I huge range to suit riders from 152cm all the way to 195cm and with a enough fidelity in between - it's almost as good as a full custom built frame.

Why do you need so many sizes? For a start the Cache is built to be a ultra versatile bike if you want to punch out road miles on smooth pavement, generally you would size a little smaller. For a gravel oriented rider you would size in the middle for a bit more cornering stability.

| in mm | 49.5cm | 52cm | 54cm | 56cm | 58cm | 60cm | 62.5cm |
| --- | --- | --- | --- | --- | --- | --- | --- |
| Height Recommendation | 152cm-157cm | 157cm-162cm | 165cm-170cm | 172cm-177cm | 172cm-177cm | 180cm-187cm | 190cm-195cm |
| Bar width | 42 | 42 | 44 | 44 | 46 | 46 | 46 |
| Stem Length | 50 | 60 | 70 | 70 | 80 | 80 | 90 |
| Effective Top Tube | 545.5 | 557.5 | 569.5 | 581.5 | 593.5 | 606 | 622 |
| Head Tube Length | 128 | 143 | 157 | 172 | 187 | 202 | 217 |
| Stand Over Height | 646 | 665.5 | 688.5 | 703 | 717 | 767.5 | 775 |
| Seat Tube Length | 410 | 438 | 464 | 492 | 520 | 548 | 576 |
| Chainstay Length | 422 | 422 | 422 | 422 | 422 | 422 | 422 |
| Wheel Base | 1022.5 | 1035.5 | 1043.5 | 1056.5 | 1069.5 | 1082.5 | 1100 |
| BB Drop | 75 | 75 | 75 | 75 | 75 | 75 | 75 |
| Seat Tube Angle | 72.5º | 72.5º | 72.5º | 72.5º | 72.5º | 72.5º | 72.5º |
| Effective Seat Tube Angle | 74º | 74º | 74º | 74º | 74º | 74º | 74º |
| Head Angle | 72.5º | 72.5º | 72.5º | 72.5º | 72.5º | 72.5º | 72.5º |
| Fork Offset | 44 | 44 | 44 | 44 | 44 | 44 | 44 |
| Stack | 558.5 | 572.7 | 588 | 602 | 616.5 | 630.5 | 644.5 |
| Reach | 385 | 393 | 435401 | 409 | 417 | 425 | 438 |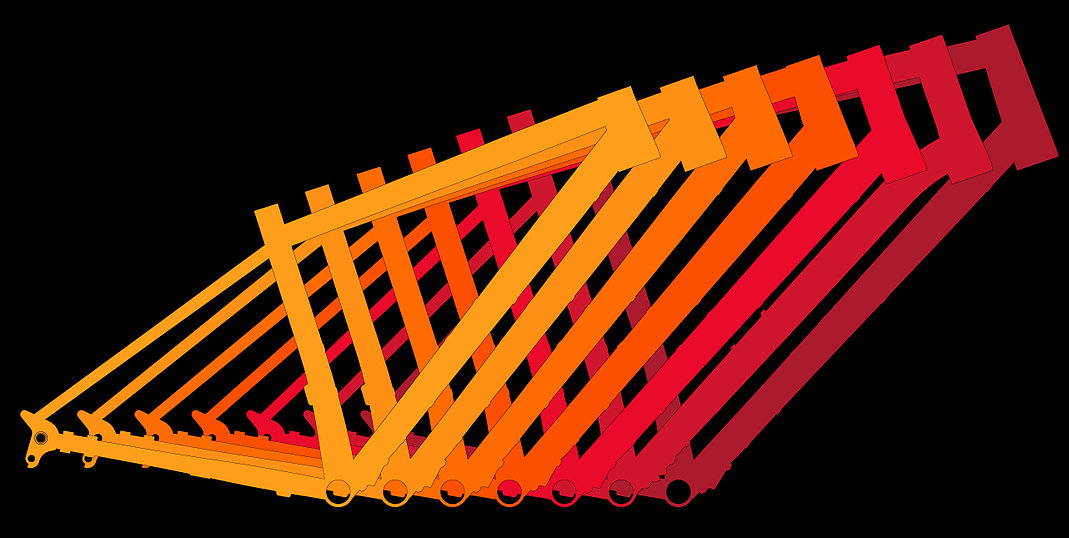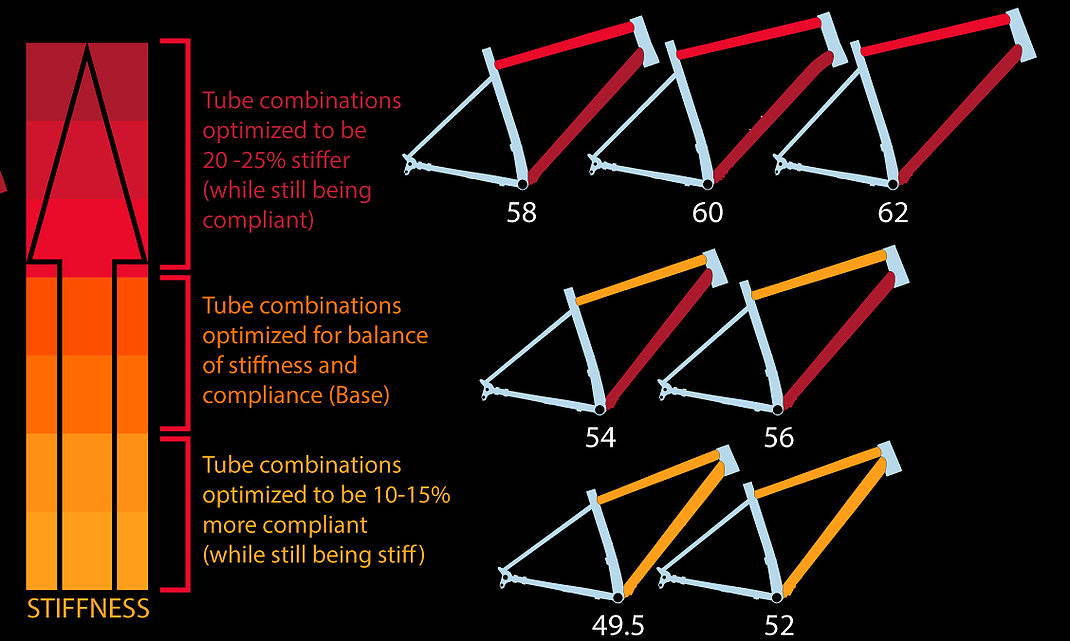 act, stromlo & nsw, northern beaches

Please get in touch with us below to book in a demo in NSW, Northern Beaches or ACT.

You are in advanced mode.
You can turn it off in left sidebar. To use advanced options, you will need to enter your own Google Maps API Key.
Get Google API Key